pure and process gas for the food process
Trace Analytics, LLC provides analyses for pure gases used in a variety of industries. Food packagers and food manufacturers should identify pure gas used directly and/or indirectly on or in the product.
Impurity testing - inert gases
Impurities such as oxygen, nitrogen, carbon monoxide, carbon dioxide, total volatile hydrocarbons, halogenated hydrocarbons, and water can be determined for the above pure gases. We can also provide analyses of particles, water, and oil for pure gas systems.
The following are gas specifications commonly used. We can also provide a custom specification based on your requirements.

SQF Code, Edition 8 - Compressed Air Requirements
Compressed Air and Other Gases Must Be Clean and Regularly Monitored
"11.5.5.1 Compressed air or other gases (e.g. nitrogen, carbon dioxide) that contacts food or food contact surfaces shall be clean and present no risk to food safety."
"11.5.5.2 Compressed air systems, and systems used to store or dispense other gases used in the manufacturing process that come into contact with food or food contact surfaces shall be maintained and regularly monitored for quality and applicable food safety hazards."
–SQF Food Safety Code for Manufacturing
Monitoring process gas
Since July of 2012, manufacturers seeking SQF certification are required to monitor the compressed air they use. Many food manufacturers are requiring proof of an air quality monitoring program from its vendors, suppliers, and packagers.
Safe Quality Food (SQF) is the first certification scheme under the Global Food Safety Initiative (GFSI) that has officially started mandating the testing of compressed air used in the food manufacturing process in the United States.
HOW TO TEST: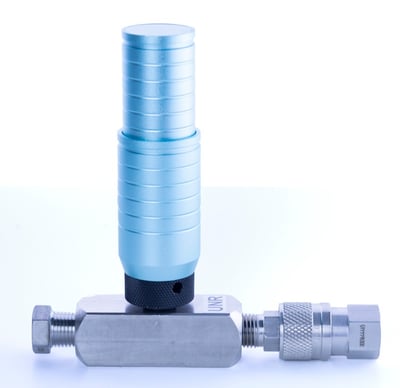 Testing your compressed air is simple with Trace Analytics. We'll set you up with easy to follow instructions, comprehensive videos to guide you and a helpful and certified customer service team.
AirCheck✓ Kit™ Model K801 is Trace's solution to affordable testing per ISO 8573-1:2010, Food Grade Air, Critical Process Air, or your custom specifications.