Kit upgrades available now
In efforts to continuously improve, we have upgraded our kits for the simple, easy use of water vapor detector tubes.
Effective January 1, 2021, water vapor results will be determined solely from the water vapor detector tube reading taken at the time of sampling and recorded on the data sheet.
If you would like to continue receiving water vapor results, you will need to upgrade your kit from model K201 to K902.
If you have an older model (LABSm, LABCm, or LABQm), a complete replacement will be provided.
Please fill out the form below to schedule a free kit upgrade.
---
UPGRADE INCLUDES: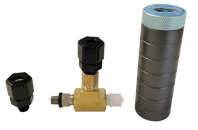 This free upgrade will work with your current K201 kit.
It's a simple addition that makes sampling easy and straightforward. Your upgrade will include a brass T, detector tube assembly, filter luer, and stainless steel nipple which will come pre-assembled. You will also receive a new detector tube tip breaker.

---
---
HOW TO UPGRADE:
Please complete the form below. We will contact you to confirm form receipt and and expected shipment date.
---
why we're transitioning to detector tubes
Detector tubes are an industry standard that provide accuracy, consistency, and ease-of-use for all our customers. In the following video, we'll share more details on why we are making this transition.
HOW TO READ DETECTOR TUBES
This video explains how to take water vapor detector tube readings accurately and efficiently. We have provided rulers with each kit to help with making exact readings.